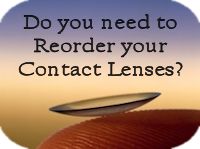 Contact Lens Web Store
Our office gives you multiple ways to make sure you always have an adequate supply of contact lenses available. Never let yourself run short or be without spare lenses.
Using our order system is the fastest, easiest, most convenient way to reorder your contact lenses. Just sign in or quickly create your own account. We will verify your contact lens prescription. Then you can order as many lenses as you want and have them mailed directly to your work or home. It's that easy.
We can also mail them directly from our office to your work or home. Just call us in Aventura at 305-931-0225 and in Lighthouse Point at 954-943-6210.