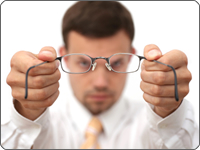 Eyewear
Our large frame showroom has an extensive assortment of discounted high fashion and budget frames to meet everyone's fashion and financial requirements.
Our on-site eyeglass finishing lab allows us to make your eyeglasses in our office. This assures accuracy and quality workmanship. Our stock of most single vision and bifocal prescriptions allows us to provide "while you wait" service for many prescriptions. We specialize in many custom services.
These include:
1) Children's Eyewear
2) Invisible Bifocals
3) Ultra Thin Plastics
4) Computer Eyewear
5) Designer Sunglasses
6) Sports Eyewear – Tennis, Golf, Shooting
7) Prescription Dive and Ski Masks
8) Industrial Safety Eyewear
Contact Lenses
Our office specializes in fitting contact lenses of all types. We are known for taking the time to properly discuss and evaluate your individual needs. In this way, we can choose a lens from our large inventory of contact lens designs that will provide the comfort and vision you need for your distinctive life style.
1 – Soft Contact Lenses
a. Disposable
b. Daily wear
c. Extended wear
d. Astigmatic
e. Bifocals
f. Fashion Tints
2 – Rigid Lenses
a. Gas Permeable
b. Conventional Hard
3 – Specialty Lenses
a. Cataract Lenses
b. Custom Designed lenses
c. Keratoconus lenses
d. Theatrical Lens Designs
4 – Various Investigational Lenses