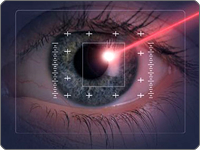 Eye Services and our Office
Dr. Wigdor, our opticians and our staff, are devoted to providing advanced personalized eyecare and eyewear services. We strive to understand the needs of each person and to exceed their expectations. Eye exams are tailored to the entire family, from ensuring proper development of children's vision to diagnosing cataracts, glaucoma and macula degeneration in adults. We specialize in fitting contact lenses to individual needs and lifestyles. Our discount designer eyeglass showrooms offer frame choices for everyone's fashion desires and budget.
Comprehensive Eye Examination
Dr. Wigdor begins with a thorough history of general and eye health. An internal and microscopic external evaluation of ocular tissue health including a glaucoma and cataract evaluation. An update of your eyes visual prescription and a complete consultation to inform you of your eye health status. We also take the time to talk with you and to answer any questions and concerns you may have.
Dry Eye Management
Dr. Wigdor is a founding member of Dry Eye Relief Systems of America and is dedicated to finding the cause and management of those afflicted with Dry Eye Disease on an individual basis. Our Keratograph 5M precisely evaluates multiple levels of tear function. Knowing the basis of your dry eye allows for a more successful treatment program. Please call our office and make an appointment for our revolutionary Dry Eye Management Workup. Visit www.dersoa.com for more Dry Eye Disease information.
Latisse Eyelash Enhancer
You can now grow longer, fuller, darker lashes. Latisse is the first and only prescription treatment approved by the FDA to treat inadequate or not enough eyelashes, a condition called hypotrichosis. Dr. Wigdor provides complete consultation, management and follow up services to help you obtain longer, more beautiful eyelashes. Call our office now or go to our Latisse Page for more details.
Laser Vision Correction
Dr. Wigdor is an Optometric Clinical Affiliate of Summit Technology, one of the first manufacturer's of Excimer lasers. Dr. Wigdor specializes in laser vision correction consultations and provides pre and post-procedure follow-up care. Any questions regarding laser vision correction can be answered during the examination visit or during our free laser vision consultation.
Contact Lens Services
Our office specializes in fitting contact lenses of all types. We are known for taking the time to properly discuss and evaluate your individual needs. In this way, we can choose a lens from our large inventory of contact lens designs that will provide the comfort and vision you need for your distinctive life style.
Medical Treatment and Surgical Co-Management
Dr. Wigdor diagnoses and treats eye and lid infections, glaucoma, and many other disease processes. Dr. Wigdor Co-Manages surgical proceedures with many area ophthalmic surgeons. Cataract, Cornea, and Collagen Crosslinking are just some of the proceedures that Dr. Wigdor provides Co-Management medical services for.